A formal dining room with casual choices at the Bistro.
All the delicious flavors of senior living in Grand Rapids.
At Covenant Living of the Great Lakes, we know that variety is important to you. That's why we give you options — and let you decide what you're in the mood for — with flexible dining times that fit around your schedule.
Our elegant formal dining room is a great place to enjoy a delicious, leisurely meal with friends in a spacious, light-filled setting. Dine on casual fare in our Bistro, purchase a to-go meal in the Simply-to-Go market, or experience our al fresco summer dining series on the patio. Our executive chef and professional culinary team create daily specials in addition to the weekly lunch and dinner menus in the Petoskey dining room.
Whatever choice you make, hospitality is always on the menu at Covenant Living of the Great Lakes. You'll enjoy ever-changing menu selections that ensure you'll never grow tired of what we have to offer.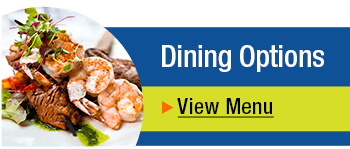 Discover the top ten foods for brain health! Download our helpful resource by visiting our Covenant Learning portal here.